Well, it's been forever since I've updated the site, which was actually for the best of reasons. Shortly after my last post, I got a temporary gig as a lead writer for an Amazon Alexa project. So for the last three months or so, I worked on a voice-operated game.
It was a blast. The game has yet to be announced, but I can probably say it is a contemporary game with a heavy comedy element. And it came at exactly the right time. May and June at Casa de Hepler was, like in many parts of the country, an exercise in stress tolerance. The kids needed their distance learning, the wife was holding down a job and holding us together, and I had to manage a team of three writers in an entirely new video game format. Had I been working on something Big and Dark and Serious, I might have slipped into depression.
But laughing at work every day was exactly what the doctor ordered. I got to meet three very cool writers and plenty of design, programming, and art staff. And I got to throw myself into a new project. It sucked up a lot of my time, but there were free moments, too.
To while away the hours in lockdown, I managed to finish reading two novels off my to-be-read pile, both full of magic and beautiful language. I highly recommend them both, and I'll tell you all about them, because the gods know that we can all use more books while we're sheltering in place.
The first is Silvia Moreno-Garcia's "Gods of Jade and Shadow."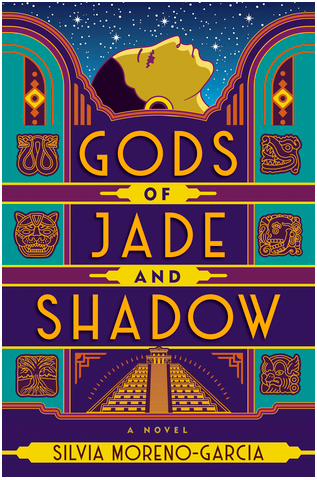 The short pitch for this is "The ancient Mayan gods feud against the backdrop of Mexico in the Jazz Age," though I wasn't 100% sure of what that would look like when I picked up the book. The short, spoiler-free version is that it follows Casiopea Tun, a young Mexican woman with indigenous roots who toils miserably at her family's orders. Through accident and magic, she falls in with Hun-Kame, one of the death gods of Xibalba, the Mayan underworld, who had been temporarily killed by his brother Vucub-Kame. With her life bound to Hun-Kame, Casiopea tries to restore his throne to him in a series of magical adventures.
The language is vivid, the characters sparkle, and the whole thing has a feel highly reminiscent of American Gods or The Sandman, but with a refreshing insider's grasp of Mexico and Mayan mythology. I did a little research into Mayan mythology for my old graphic novel M.I.T.H., and seeing the lords of Xibalba elegantly portrayed here was like letting a NASCAR driver take the wheel on my beat-up old hoopty car. I thoroughly enjoyed the ride.
Gods of Jade and Shadow can be found here.
The second book I managed to finish off was Madeline Miller's The Song of Achilles, which is a novelization of the hero of the Iliad as told by his companion Patroclus. Miller is well-qualified to write this story, having both taught Greek and, according to her Acknowledgements section, worked on the novel for ten years.
The result is a well-polished story that remains about as faithful as one can be to contradictory myths. Having written an Achilles-based screenplay as well as revisiting the subject matter for the Diomedes-heavy story Mythkillers, I found the book beautiful and engaging, never taking too many liberties with Homer's work. I really dig it in comparison to something like Dan Simmons' Ilium and Olympos, or the movie Troy, both of which picked some favorite characters and discarded the rest. Miller's work is more reminiscent of Elizabeth Cook's Achilles, in that it retains the presence of gods and mythical creatures, but it paints a richer tapestry by virtue of being a few hundred pages longer and adding a narrative conceit.
This conceit is the narrator, Patroclus. Miller's major departure from Homer is that Patroclus, Achilles' closest companion, is a sensitive boy who doesn't like the skills of war, and as such is an embarrassment to his father. Sent to Phthia as an exile, Patroclus falls in love with the prince who will become the greatest warrior of his generation. Miller jumps in with both feet to the relationship between the two boys as they become men. In answer to your next question, the sex scenes are tastefully handled and are more about the emotional life of the characters rather than any romance-novel erotica.
As for the rest of the myths as we know them, Miller cleaves closely. No, Achilles' skin isn't iron-hard — a decision that almost all modern writers make, since it's not in the Homer and it makes his fight with Hector the act of a bully rather than a hero. But pretty much everything else is intact. Achilles isn't the brute of Troilus and Cressida. His tutelage with Chiron, his dressing as a girl to avoid recruitment, his skill with a lyre, the fathering of Neoptolemos, and the prophecy regarding his own death are all used to illustrate his life in loving detail. Patroclus makes a fine narrator, even after the fateful moment which Iliad fans know is coming, and Miller uses the events to place the final capstone on the story.
You can find the Song of Achilles here.
"Anything Else," You Ask?
I don't have any personal writing that's ready for publication yet. On the bright side, I finally reattacked my attempt at a cli-fi short story, "The Message," and got to the end of a rough draft. I polished a bit of my superhero IT department story "Needs of the Client" and have submitted it to my writing workshop — it'll get some feedback two weeks from now. So things are proceeding, even if it's slower than I would like.
That's the news from the Hepler household. Stay safe out there.