Once upon a time, I was not very political. Those times, naturally, are over.
In 2016, I volunteered my time to do some phone banking. It did not go well. They were probably the most ineffectual hours spent by anyone with a phone, ever, and I'm including that time I left a message on an answering machine asking a girl to the junior prom. (Yeah, I had game. Why do you ask?)
The phone banking consisted of calling people of my preferred political party in swing states. And in 2016, people in swing states were absolutely deluged in calls. I heard answering machine messages saying "We're not at home right now. If this is a political call, hang up and cross us off your list." Every voter I reached said "I'm already ready to vote, our family has a plan," with the exception of one person who went Green Party. I changed no minds. The best thing I did was update the registry so that no one else on the team wasted their time calling a dead number.
This year, I'm trying something different. I signed up with Vote Forward to see if I could get some use out of this writing thing I'm supposed to be good at. Their theory is that since no one gets hand-written letters any more, the average voter would be curious to see one in the mail and open it. Inside is a handwritten letter encouraging the reader to have a plan to vote.
I should be clear that there's some hard data on this from previous elections. The best way to get someone to vote, bar none, is to volunteer to knock on doors, talk to someone, and leave literature: it's got a conversion rate of about 20%. But if you don't live in a swing state, that option's not going to score your team many voters where it matters. Letter-writing like this has about a 3% rate — which is much higher than ads for clicks.
The process is pretty simple. You log in to the database of voters, click "Adopt Voters" from swingable states in batches of 5 or 20. (The "adoption" process is so nobody duplicates your work.) Then, you download and print the names, and write your letters. Vote Forward gives you a return address that matches their in-state field offices, so you aren't telling complete strangers where you live. Download the form letters, add your personal message (no issues, no specific candidates, just encourage them to vote), and fold it up in the hand-written envelope. Then you add a stamp that you bought (think of it as supporting the Postal Service).
Then you hold on to the letters and send them on the date that's optimized for voter action and retention.
It takes about two hours for me to bust through 20 letters from download to final product. I did 20 a day, and at the end of my first week… behold!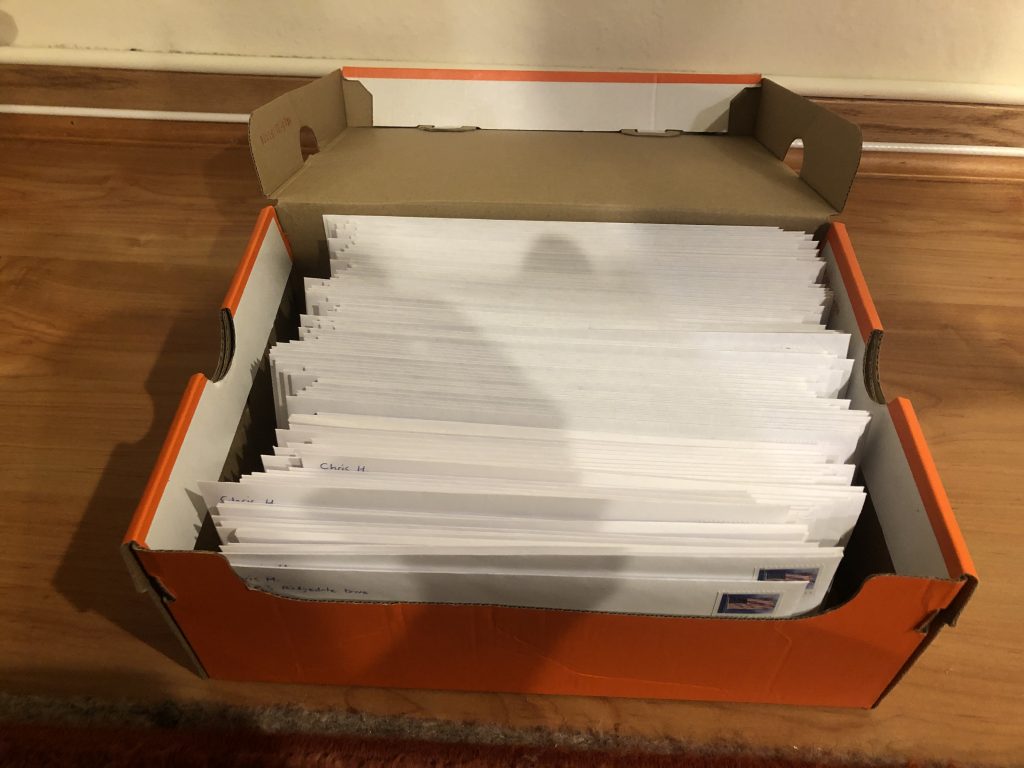 That's a hundred envelopes, or, if the ratio is about right, three voters in swing states. It doesn't sound like much, but before this, my vote would have zero influence on the election. That's just how my state works in the Electoral College. When people on Facebook say "Vote!" after whatever bad news comes their way, I can say "Not only did I vote, I brought three friends!"
Will it make a difference? I don't know. But I feel a hell of a lot less helpless. And maybe, if enough of us more-than-triple our impact like this, we can get better leaders. The site says they have more than 100,000 volunteers, and their goal for letters is in the millions.
Vote Forward is at https://www.votefwd.org.
Game on.